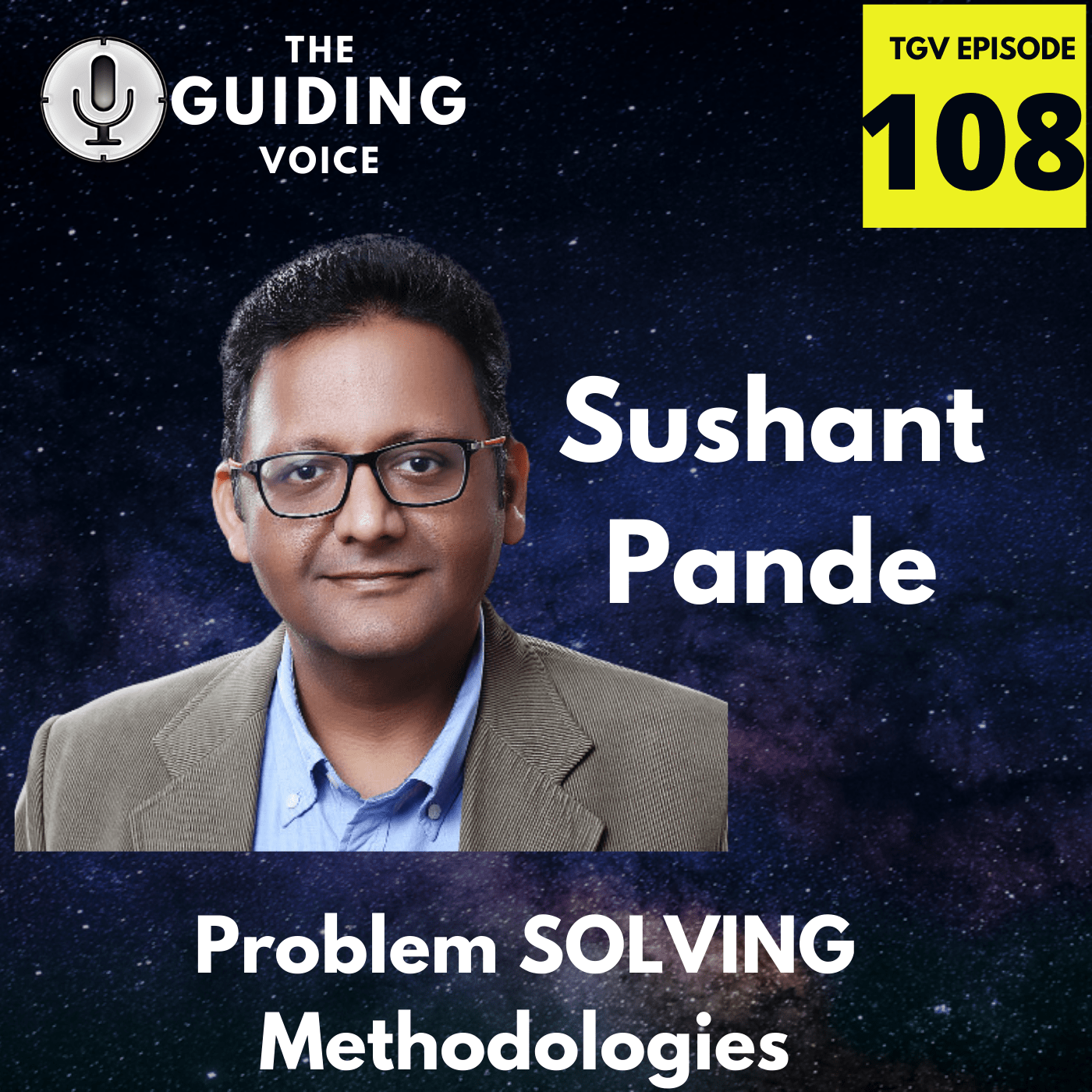 As India is going through possibly the worst time in living history, it is imperative that we all come together, across states, languages, and even brands or platforms.
The Guiding Voice Podcast team strongly supports the #PodForChange initiative to help the needy.
If anyone is interested to contribute to the #covid19indiahelp please donate through https://fundraisers.giveindia.org/fundraisers/podforchange-covid-relief-fund
In this episode #108, the hosts Naveen Samala & Sudhakar Nagandla interacted with Sushant Pande
Sushant Pande is the co-founder of Easy Problem Solving, the company created a proprietary i3 methodology, distilled from Design Thinking, Lean Six Sigma, and TRIZ practices
Sushant and team help their clients solve business problems in Strategy Alignment, Cost Optimisation, Revenue Enhancement, and Digital Transformation.
Easy problem solving delivered a revenue uptick of half a million dollars for their clients in their 1st year of operation itself. 
Sushant's Insights:
Sushant's Career journey, how's helping organizations drive process efficiencies and achieve productivity?
About Easy Problem Solving
I3 methodology and its use in companies
How Lean Six Sigma certification has helped in his career?
How leaders should identify problems in their business
Bleeding neck problem,
Approaches for solving business problems
1 piece of advice to those aspiring to make BIG in their careers and LIVES
Trivia about Google
Enjoy the episode!
Connect with Sushant on LinkedIn: https://www.linkedin.com/in/sushantpande/
Website: easyproblemsolving.com  (Company Website)
Phone: 9008366558 (Work)
Email: sushant@easyprosol.com
Dear #TGV Audience…Here is a chance to broadcast yourself 😊
Just voice record your questions and WhatsApp us the audio file (on India number +91 9494 587 187), we will play your question along with our answer in future episodes!
Or visit http://speakpipe.com/TheGuidingVoice and record your message or question
Do not forget to share your suggestions or feedback at theguidingvoice4u@gmail.com or by messaging at +91 9494 587 187 
Subscribe to our YouTube Channel and also, follow The Guiding Voice on Social Media:
http://linktr.ee/theguidingvoice
#problemsolving, #tgv, #theguidingvoice, #creativeproblemsolving, #leansixsigma, #lss, #sixsigma, #marketing, #innovation, #easyproblemsolving, #naveensamala