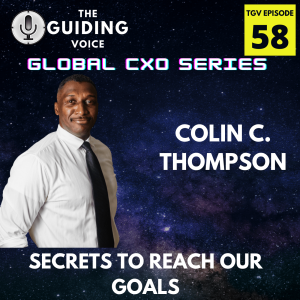 Tuesday Dec 15, 2020
Secrets to Reach OUR GOALS | Colin C. Thompson | TGV Episode #58 (Global CXO Series)
In this episode #58, the hosts Naveen Samala & Sudhakar Nagandla have interacted with another guest Colin
Colin C. Thompson, a Canadian born Jamaican, is founder and CEO of Oligye Enterprises (Shanghai) a Business Consulting company focused on coaching, training, and Blockchain technologies. Specializing in Personal Development, Diversity, and Career Coaching, Colin coaches individuals and groups on how to reach their dreams, goals, and desires. 
Colin developed an extensive background in the Information Technology field working for blue chip organizations such as IBM, EY, and Howard University.  In addition, Colin is co-Founder of XChainz, a blockchain based educational and workforce platform for assessments, training, coaching, and the award of digital credentials.
Colin graduated from Howard University with a BBA Degree and MBA in Supply Chain Management and E-Business Technologies.
In his down time, he enjoys pushing himself through competing in various events such as marathons and triathlons with his wife Kay.
Listen to Colin's Tips on:
Colin's Career background
How passion towards Coaching started?
Lessons learnt while coaching & motivating Others
Does planning help or Going by the flow?
Challenges faced by Colin & How he overcame?
Colin's inspiration
How to plan the goals?
Colin's surprise question to the hosts
Tips for Students and Young professionals
Enjoy the episode!
Colin's LinkedIn Profile: https://www.linkedin.com/in/colincthompson/
Here is a chance to broadcast yourself J
Just voice record your questions and WhatsApp us the audio file (on India number +91 9494 587 187), we will play your question along with our answer in future episodes!
Do not forget to share your suggestions or feedback at theguidingvoice4u@gmail.com or by messaging at +91 9494 587 187 
Subscribe to our YouTube Channel: https://www.youtube.com/c/TheGuidingVoice
Also, follow The Guiding Voice on Social Media:
LinkedIn: https://www.linkedin.com/company/theguidingvoice
Facebook: http://facebook.com/theguidingvoice4u
Twitter: http://twitter.com/guidingvoice
Instagram: https://www.instagram.com/theguidingvoice4u/
Comments (0)
To leave or reply to comments, please download free Podbean or