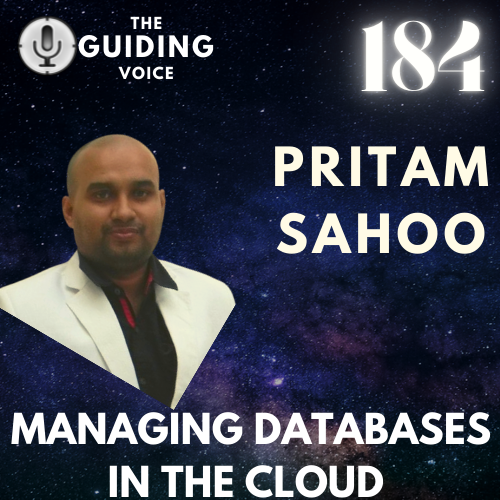 Genre: Cloud Services, Career Development.
Cloud services are services provided by certain companies which allows remote accessibility of data with the help of internet.
These services are very important as many companies have branches overseas which makes it difficult for employees to collaborate and work on certain projects. One of the emerging companies who provide reliable cloud resources is google cloud services which will be discussed in detail in this episode.
In the episode:
Start 0:00:00

Pritam's career so far and top 3 things that helped him in his career. 0:0

2:55

What are different types of databases and how do they help the businesses? 0:0

4:22

What does google cloud offer to meet various DB requirements? 0:0

6:07

Data Warehousing options available on Google Cloud. 0:0

9:21

Google Cloud BigTable 0:

12:56

How to get started with Database Migrations for homogeneous and heterogeneous scenarios? 0:

15:51

Rapid fire questions 0:

19:10

What would be your advice for those aspiring to make big in their careers? 0:

23:21

Trivia on Websites 0:

25:48
 About the guest:
Pritam has 15 years of IT industry experience, with Specialization on Cloud (IaaS, PaaS), & pre-sales experience in various geographies and market segments. His specialities include Google Cloud, AWS, Oracle Public Cloud, PaaS, IaaS, Hybrid Cloud, Cloud Security, Oracle Identity & Access Management, Oracle Database Technology related products, SAP Databases, SAP HANA.
Important Links:
         Cloud SQL https://cloud.google.com/sql
         Cloud Spanner https://cloud.google.com/spanner
         BigTable https://cloud.google.com/bigtable
         Firestore https://cloud.google.com/firestore
Connect with Pritam on LinkedIn:
https://www.linkedin.com/in/pritam-sahoo-77a438a/
Naveen Samala
https://www.linkedin.com/mwlite/in/naveensamala
Sudhakar Nagandla: https://www.linkedin.com/in/nvsudhakar
Watch the video interview on YouTube: https://youtu.be/PO7Kk_yNkzM